Updated 2005
I married at around age 21, seperated about 8 years ago, and finally got a divorce finalized a few years ago. 8 years ago, I moved across the country to the Rocky Mountain region. I remarried, then divorced again in 2005. My son was born in January of 2001, 3 weeks ahead of schedule, on the day after my first anniversary...surprise! My daughter was born in the beginning of November of 2003.
History
In brief--there are more details on other areas of this site. I was a bright, active, and curious kid--but rather socially inept. For whatever reason, I didn't hit it off with others. Perhaps they sensed something different in me, and reacted to that, I am not really sure. Whatever the reason, I spent my childhood with a few close friends, and as the pariah of the schoolyard. This was a stress, but perhaps because I'd not experienced the alternative, it didn't actually hurt me. I did develop a bit of misanthropy. I think I was born a were...I always had a strong connection to animals, and my ability to mentally shift emerged in relatively early childhood. I was not, however, psychically active.
That didn't happen until I hit my teens, and it happened simultaenously with the first big ol' shock of my life--vampirism. Let me tell you, it is not a fun thing, to go through puberty and then go through THAT right afterward, like "just when you thought things couldn't get any worse". As if having your body rebel in an understandable fashion were not enough, having it do things NO one understands is a great deal worse. I survived it, anyhow, and also became interested in and began to study and practice Wicca. By the time I left High School I was a fair hand with it, and a few years later certainly I was a high priestess. Then came marriage, the one that eventually failed. During that time, I diverged into other esoteric practices, incorporating them into my own--I was very eclectic. Then I met a fellow online who simply called himself a psion.
He was in a Wicca chat room, being a pain. Ok, that'd been a bit of a hobby of mine, too--I had some disagreements with some of the more common attitudes, and liked to shake people out of their dogma and try to get them to think. We became friends, and I began to learn a bit about psionics.
He thought real vampirism was an interesting sort of phenomenon. I liked his very straightforward, no-mysticism approach to energy working. Then he answered the question I'd been trying to answer for many years--what is vampirism, what causes it? He'd noticed a common characteristic in blood vampires such as myself, comparing several of them. And that gave me the answer to it, right there. I investigated this immediately, and was able to find several incidences to corroborate it--so it must be the real answer. That is detailed on my Parazoology site.
Now I had a decision before me. With a failing marriage, and in very poor health (I made a bad vampire, I simply didn't have what it takes to deal with it), I now had a choice I'd never had before. I could get rid of it--maybe. It might be dangerous to try, but there it was. And hey, one of my other online friends who lived in the same area as the one I now considered my mentor suddently invited me to his graduation party, right out of the blue. But I didn't have the money to get there...that's all right, he'd pay my way.
Well. There's a case for insanity, right there. I picked up my Western Union, and got on a Greyhound bus, traveling 1200 miles across the US to meet people I had never before met face to face. A longer journey than any I had been on since I was an infant. They met me at the bus stop, and I recognized them right away. I stayed at my mentor's house, celebrated the graduation, and afterward went to the Colorado Howl, a camping trip organized by some local weres. I had time to reflect, up there, and to clear my head. After that came the second big event in my life.
Upon returning, I decided to stay for a while--in no hurry to return to a broken home, after all. And I brought up something my mentor had mentioned to me before. He was a type of born-psi known as a phoenix. To my understanding, that meant a person who simply generates extremely large quantities of energy, and tends to be territorial and aggressive. There was a way for a phoenix to give others the same capability, and it was called transmutation. He'd never tried it before, but he'd seen others do it. Before I'd left, he'd offered to try it out on me, with the notion that it might help with the problems I'd faced, particularly the emotional stress. Now that I was there, face to face, I asked him to give it a try--who knows, maybe it would give me the strength to learn to deal with the vampirism.
That turned out to be a very naive notion. The actual process was no more than holding out my hand while he put in the programming and an enormous quantity of energy...it felt to me like I'd been given a piece of the sun, but without burning. Not too long after that, the nerve spasms began, with annoying regularity. The spirit entity was not compatible with such high levels of psi energy, and it protested by sending shocks through my nervous system. Now I had to choose. By this point the choice was easy. Transmutation involves an enormous amount more than I realized it would, and it altered my personality significantly. The vampyr symbiont now seemed precisely like the intruder that it was, and I asked if he could remove it.
He didn't seem too happy about that, as there was no way of knowing how much risk was involved, but he agreed. More details on that are also on the other site. With the beastie gone, I returned home, and got a temp job to save up money--I intended to move. I'd found a roomate out there, and there was nothing keeping me in Michigan any longer. Besides, I'd fallen in love with the mountains. So, 6 months of mood swings later (transmutation can be rough), I moved to the Rockies for good.
About a year later, I met another friend I'd known online, and a couple years after that, we were married. Our son was born at the end of January, in 2001, my daughter in the beginning of November, 2003. We're now in the middle of a divorce, because he decided he had the 7 year itch or something. I've been diagnosed with Chronic Fatigue Syndrome, and have applied for disability, but currently have no income. I think that about covers it all...
If you want to find out still more about me, I've got a Livejournal, a MySpace, and an OkCupid! account.
Although I hold a very pagan outlook on the world, I am no longer Wicca. Nevertheless, I can completely sympathize with the following gripe: Wicca is becoming mainstreamed, diluted, and altogether worthless as time passes. If people want to retain it as a worthwhile religion rather than a refuge for dabblers, they're going to have to take a stand.
Favorite Quotes
"True knowledge exists in knowing that you know nothing." --Socrates
My Dragon Code
DC2.~Mcw/Bp/[H] Gf L-/L14f4n5t35w W-/W T Sku/Skf Cgy/Cre'/or'/ye' Bfl Ar+ Fr--- Nn M+++! Or+ H $ F Fc~/o R++ Ac+++ Jr+Jv S++ U I# V- Q++[en,rv,con,nerv,prim,te,bi] Tc E- Df++
My Were Code version .09c
WC.WCWms/ss/t6/A(phoenix)ms/ss6AH(ColoHowl98/99)IaN+++S--T-~Wr+F+N++E+++bC+cNk++aRLRBac+w/95g+r+ewh++++i+++wfp+++sf+
My Psi Code version 1.0
PC.PtImEcmp(ep,co,ap,rv)F

:: how jedi are you? ::
I am a A Song Dragon! Hey, I took the http://dragonhame.com online Inner Dragon quiz and found out I am a Song Dragon on the inside. In the war between good and evil, a Song Dragon tends to walk the fine line of Neutrality.... When it comes to the powers of Chaos vs. those of Law and Order, your inner dragon walks a fine line between Law and Chaos.... As far as magical tendancies, a Song Dragon's nature does not lend itself well to the ways of Magic.... During combat situations, whether by spells or by claw, your inner dragon will do whatever it takes to get the job done.... Song Dragons are semi-nomadic in nature. They do choose a general geographic region to live in, but move their nests frequently within their territory. They build their nests in remote areas, where they are secluded from outside disturbances.' Song Dragons are a dull grey color to their scales, but are graceful and quick in movement. The most striking attribute of the Song Dragon is it's voice. Having several sets of vocal chords, the Dragon's every word reverberates like a string symphony.' Song Dragons build their homes deep in seclusion, but in truth they are very social and friendly in nature. They will often be found polymorphed into human form and fraternizing with people in bars and public places. Song Dragons are the bards of dragonkind, they greatly value creative thinking and artistic talent. They live life to it's fullest, and are well known for going to extremes. They are also known for their good-hearted nature and kindness. ' This Dragons favorite elements are: Jade, Music, and Happiness http://Dragonhame.Com
You are the Dragon. In medieval Europe, dragons were considered mostly evil and a generally bad omin. Christianity linked the dragon with Satan because of the dragon's snake-like apperance. However, to the Orient cultures the dragon was a symbol of widom and roalty. It was a benign animal and the fifth creature of the Chinese zodiac. It resided over the east and the sunsrise. It was also said to bring rain and the springtime. The dragon is interesting because it combines all four elements: air, earth, fire, and water. It could fly, had the horns of a ox, breathed fire, and resided over the moon.
What mythical beast best represents you?Take the quiz!

What's YOUR Writing Style?
brought to you by Quizilla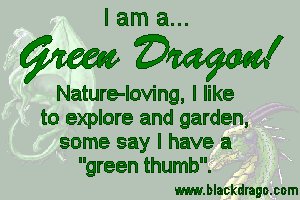 A RED Dragon Lies Beneath!
I took the Inner Dragon online quiz and found out I am a Red Dragon on the inside. Remember Smaug? Yep, Red Dragon. Oh, my friend I'm in good company. Red dragons are the most vile and crafty of all the dragons. They are also the most dangerous of all dragons. As such they are the Fire Elemental dragons. Reds have a nasty tendency towards luring you in with quiet words and soft emotions, then wrapping their scaly tails around you and biting off your puny little human head. Fun, no?

But of course, Reds aren't all about killing and treasure hoarding. I like to invent creative traps, relax in the mouths of volcanoes, fly over vast forests looking for men ...er... sheep (yeah...), and pick fights. My favorable attributes are Summer, the sword, fire, courage, passion, will power, and leadership. If dragons went to war, they'd rally behind me in a snap. Well, me or a Copper Dragon. But those Coppers are wusses anyway, and I could beat one up to take command. In fact, I probably would considering my breath weapon is good old fashioned Fire, and plenty of it. Oh it's good to be the king.



Which Member of the Endless Are You?

Find your Role-Playing Stereotype at mutedfaith.com. [Angel.]
Winged Wolf's Political Views
Winged Wolf's list of places to go to do good things on the web.
Warning: Many of the links below lead to pages which are best described as "PG". The material is kid-safe, but it's not kid-friendly, and some of it may be frightening. There is no pornography, graphic violence, or other such material, however. So if you're underage, don't go there, and if you're older, enter at your own risk. To go back to the kid-friendly mini-site, click here.